The ongoing digital transformation of manufacturing affects all businesses that strive to maintain their competitiveness on the market. For Small- and Medium-Sized Enterprises (SMEs), smart manufacturing trends, such as Industry 4.0, may seem difficult to comprehend at first, but using an iterative and continuous improvement approach such as lean manufacturing, smaller companies can take advantage of their agility and adopt to meet the clients' expectations.
PipeCloud Oy is a spinoff startup company since autumn 2018 from ARDOR Oy (formerly Sihy Oy), which were founded in 1988. ARDOR Oy is a professional pipe manufacturer based in Raisio, Finland. The customer base comprises companies in the shipbuilding industry as well as the process and petrochemical industries.
WHAT IS PIPECLOUD?​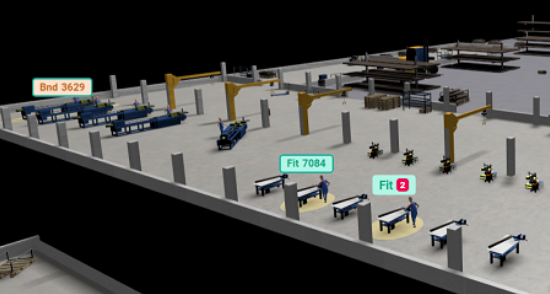 PipeCloud is a modular SaaS based Manufacturing Execution, Quote calculation and Work effort estimation system for pipe pre-fabrication workshops. It extracts material data from various sources of engineering data, converts it into logical spool bundles, generates programs for machine tools, assigns orders to workers, and tracks the progress.
HOW DOES PIPECLOUD WORK?
Production of unique pipe spools has always been artisanry that required an army of talented engineers and hours of routine work planning for an industrial scale. But with PipeCloud, you'll be able to digitalize what has been done manually for decades.
Here's how:
ARDOR STORY: FROM ​EXTRACTING INFORMATION FROM THE DRAWINGS​ TO ​AUTOMATIC MACHINE TOOL PROGRAMMING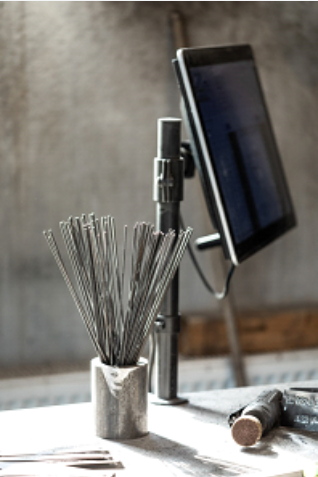 Ardor started its digitalization journey at 2015 from automating the extraction of cut lengths and bend angles from the pipe drawings. After some background research, it became obvious that by processing the available data systematically, the system would be able to not only make lists for cutting and bending, but also be used to control the manufacturing process and generate machine tool programs making offline programming unnecessary.
By treating each manufacturing phase as an independent sub-process, many characteristics of ​serial production can be implemented​: mass producing pre-cut parts, bending pipes of the same size in large batches and supplying the needed parts for the fitting phase. Independent and optimized sub-processes​, of which some may be outsourced, will more likely be able to reduce waste and respond to the changing demand situation effectively. The phases of pipe prefabrication are cutting, plasma cutting, bending, fitting, welding, robotic welding, material picking, surface treatment, pressure tests, delivery, etc.
ARDOR redesigned its pipe prefabrication business with PipeCloud – The key features that ARDOR appreciates:
Pipes are sorted, marked and stored as specified in the order
Pipes arrive just in time (JIT) for installation
Transparent and competitive unit pricing
Less errors due to the automated work planning process
Possibility to automate orders and reporting through system integration
Reducing material consumption with effective pipe nesting capability
Weld and Material traceability reporting information is produced as a side product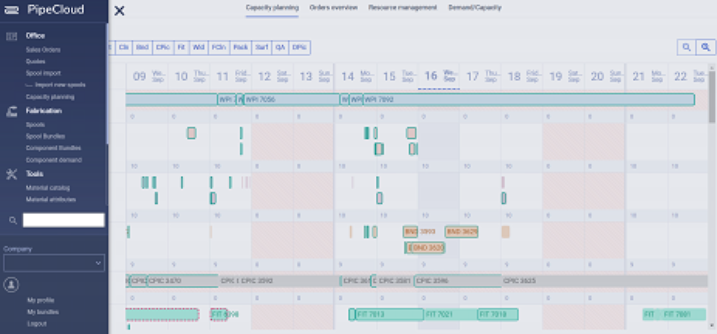 To support the new model, PipeCloud and ARDOR built a Manufacturing Execution System (MES), which will provide the needed information for each manufacturing phase. The MES can also be used to assign work to employees, track work progress and act as a communication and logistics platform between the phases.
Batch processing PCFs, bundling spools and using a computerized work orders has been proven to be significantly more effective than the old method of handing out paper drawings and creating cut lists and other supplementary documents by hand. The biggest single change in the daily routines has been the significantly easier work planning process where PipeCloud is continuously improving with optimization capabilities. As a result, major savings have been achieved both in work planning and on the shop floor. Other benefits have been high production quality, avoiding manual work planning errors, reducing material waste, high Overall Equipment Effectiveness, transparency towards the customers and more accurate resource planning.